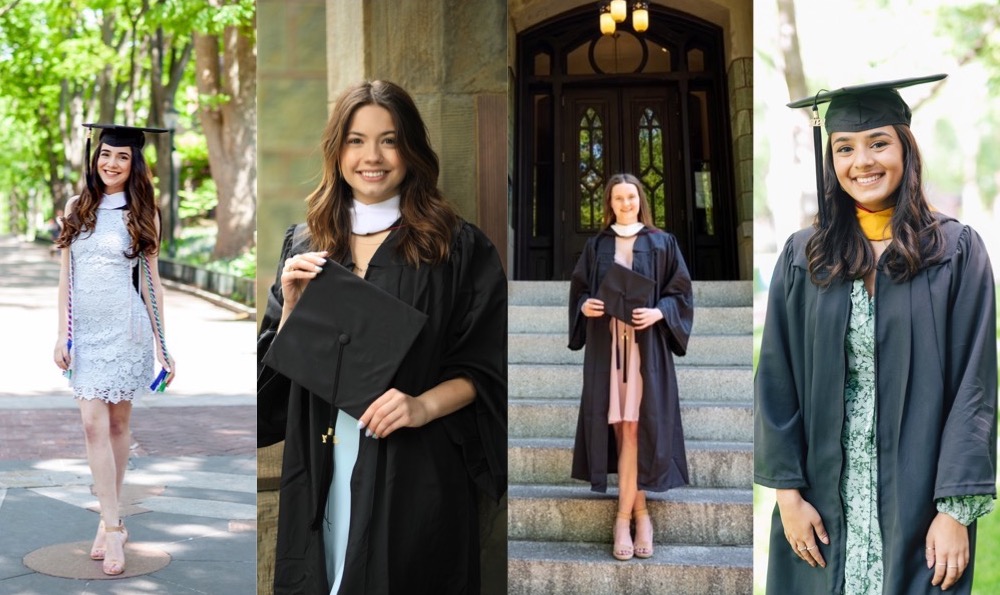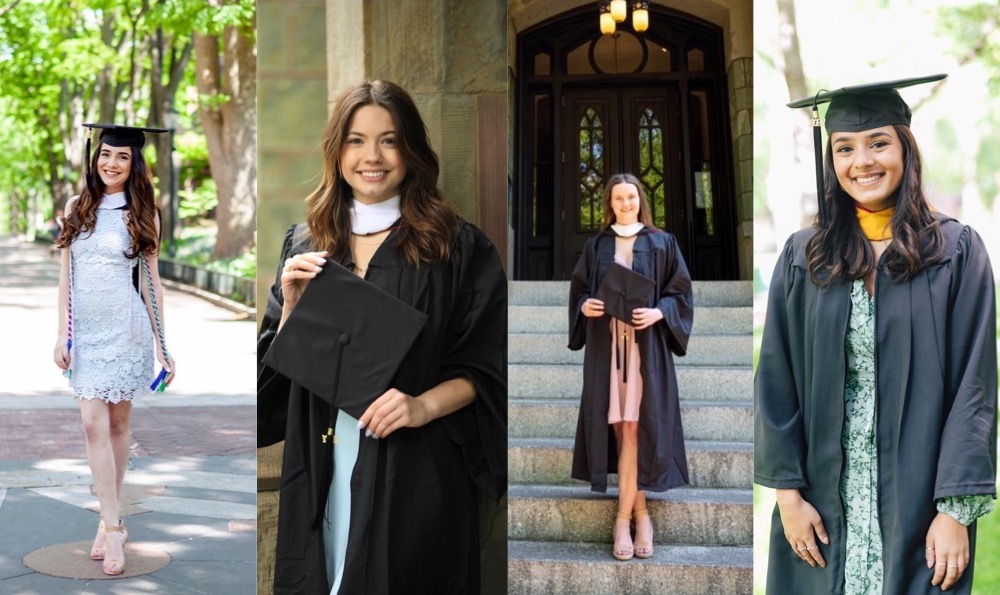 Congratulations to Amanda Moreno (B.A.), Riley Merkel (B.A.), Kamryn Stecyk (B.S.), and Suditi Rahematpura (B.S.) (pictured left to right) on their recent graduation from the University of Pennsylvania and the Schmidt Lab as a part of the Undergraduate Class of 2021!
The four graduates have been invaluable members of the Schmidt Lab team during their time as students at Penn. All have been awarded grants, fellowships, and/or awards for their research endeavors over the years. Most recently, and mentored by Dr. Schmidt, Moreno and Merkel successfully defended their senior honors theses at the Annual Neuroscience Research Symposium. This feat landed both Moreno and Merkel Neuroscience degrees with Honors Distinction at graduation and Moreno with the 2021 Elliot Stellar Award for best research talk.
Despite their shared learning experiences in the Schmidt lab, the young women have all forged their own unique paths for the future. This coming year Moreno will be serve as co-President and Director of Be Body Positive Philly, a nonprofit organization she co-founded dedicated to decreased eating disorder risk in marginalized youth. Moreno is expected to attend medical starting in the fall of 2022 and hopes to one day be a pediatrician working at the intersection of clinical care and public health. Stecyk plans to spend time interning at New England Aquarium and Small Animals Clinic and will attend veterinary school in the near future. Rahematpura will be working as a Hepatology Clinical Research Assistant in the Perelman School of Medicine conducting various clinical studies for patients with liver disease, many of whom struggle with opioid use disorder. Rahematpura aspires to take her knowledge from Schmidt Lab into the clinical world as an Emergency Medicine Physician to serve and discover new solutions for those who suffer from substance use disorders. Merkel, on the other hand, will be staying in Schmidt Lab as a Neuroscience Research Specialist.